MOTO g 2ND gEN IS NOW AVAILABLE !!!
After the great entry of MOTO E and MOTO G the Google team is back with another advanced version of the phone that is MOTO G 2nd GEN !.
The phone is now available exclusively at Flipkart.com at price of just
Inclusive of taxes
EMI starts from Rs.1162
(Free delivery)
The phone has 1 year manufacturer warranty for Phone and 6 months warranty for in the box accessories Motorola India Warranty and Free Transit Insurance.The Google is also giving assurance for six  moths for the accessories.
"Exceptional Phone. Exceptional Price" this the review by the official flipkart.com team ! You know  The Moto G 2nd Generation is the successor to the earlier version called  Moto G which was highly successful !  This  have  a 5-inch HD screen and lightening  fast Quad-Core processor this  will guarantee you a better smart phone experience on all the go
KEY FEATURES OF MOTO G (2ND GEN) (BLACK, WITH 16 GB)
The version :Android v4.4.4 (KitKat) OS
Memory :1 GB RAM
External SD :Expandable Upto 32GB
The ore : C1.2 Ghz Qualcomm Quad Core Processor
Camera : 8 MP Primary Camera and 2 MP Secondary Camera
Sim Specs : Dual SIM (GSM + GSM)
Display : 5-inch HD Screen
Display
The Moto G 2nd Generation is the first smartphone in its class to offer a 5-inch HD display so that you can feel brilliant colors on your screen! The phone is also protected with Corning Gorilla Glass , this advancement will help you to protect from all types of scratches and falls!
2070-mAh Battery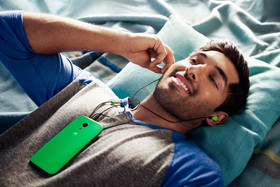 Now tension over the battery life , now forgot about the power banks ! with new  Moto G's 2070 mAh battery.
Camera
Primary Cam

Secondary Cam

Recording
touch anywhere to take a pic and catch all the lights , its a brilliant camera , now you cant miss any shot!
FREETECHPORTAL.COM VERDICT
You have read out the features which quite brilliant . so choose this as your economy smart phone."Exceptional Phone. Exceptional Price"